Steve and Mary E
About Steve and Mary E
Steve and Mary E., are "North End" acoustic musicians located on the "South Shore." Together they capture sounds from yesterday made new again. From favorites all the favorites we heard on "am" radio in the 60's and 70's to the BBC in the 60's and the British invasion, Steve and Mary E, bring you their favorites, which are sure to be your favorites too. Their energy and harmonic blends that only 2 people on a shared journey can achieve, enhance every song they deliver to you. Singer, songwriters, and lovers of some of the best tunes ever written, they love the music they make! Named "Best Acoustic Duo" by the Kankakee Area Music Awards, 2015.
Oh, and Steve, well, let's just say he has given birth to a lost instrument, the human whistle! Together they bring way too many years of performing live music to share here.
Steve Champagne on guitar, piano and vocals. Mary E., predominately vocals. Steve and Mary E., are available as a duo or independently as their repetoire is crazy huge!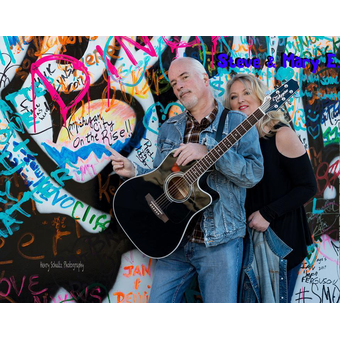 220 Fogarty St.
Michigan City, IN, 46360